Hello! Welcome to Miss Misery – or if you're a returning reader, welcome back. I haven't updated this site in a hot second, but that's about to change, as I've just started publishing the Miss Misery Newsletter. Every Monday, I'll publish its full contents on this blog. You're welcome to subscribe to the letter or read each issue here! Either way, it's free.
So, without further ado, here's MM Issue #1, 11/7/22 (slightly modified for this blog):
Hello! My name's Zoe. I'm the author of this site, Miss Misery, where I write through my battles against mental illness. The blog is also home to my knitting nonsense and other writing and art projects.
But let me better introduce myself: I live in Minneapolis with my human, Max, and two cats, who are basically small fuzzy humans. I'm working on my Bachelor's in English, which I hope to finish, like, eventually. (I'm 26. It'll happen… someday.) I like puns, bright colors, Halloween, and the incredible punishments and rewards that come from writing.
Thank you in advance for checking out my writing! I hope to make it a catchfire part of my writing career. Each week I'll release news about my projects, musings on mental health, and other fun stuff (like cat pictures–a lot of cat pictures). Subscribing to the newsletter is free, so please sign up! I've got so many issues to share with you.
---
Misery and Mystery, a Novel
The Elevator Pitch
I am so, so excited to announce a project I've been working on for the past several years: my debut novel, Misery and Mystery! It's a sci-fi/horror story that follows two school-age girls who quietly struggle with depression and delusion. Though they are opposites in nearly every way, their lives are oddly parallel, and each believes the person she loves can save her from her suffering. The narrative focuses on the girls' emotional experiences, which are colorful, introspective, and often violently tumultuous. Misery and Mystery chronicles the worlds that formed in my head as I grew up with borderline personality disorder—but more on that in a minute.
Writing Progress Update
While the novel doesn't have a release date yet, I've been hard at work drafting and revising. One of the primary functions of my newsletter – and these blog posts – will be to keep you updated on my progress. Every week I'll share snippets of passages, personal childhood memories that inform the story, character sketches, and other fun stuff.
Publication Plans
I'll publish Misery and Mystery chapter-by-chapter on this blog, my newsletter, on Wattpad, and anywhere else people can see it. I also hope to release a weekly audio chapter (read by yours truly). And the coolest bit? It'll all be free. I hope to rally enough readers to catch a publishing house's attention and formally release it as a paperback. After that, who knows what this story will become? (I do. It'll be a graphic novel, and once you read it, you'll see why it needs to be a graphic novel. But more on that in the coming weeks.)
Sneak Peek
If you don't want to wait to read the first chapter or two, check out my Patreon! I'll send you the first chunk of the story right now in return for a small pledge.
---
Mental Health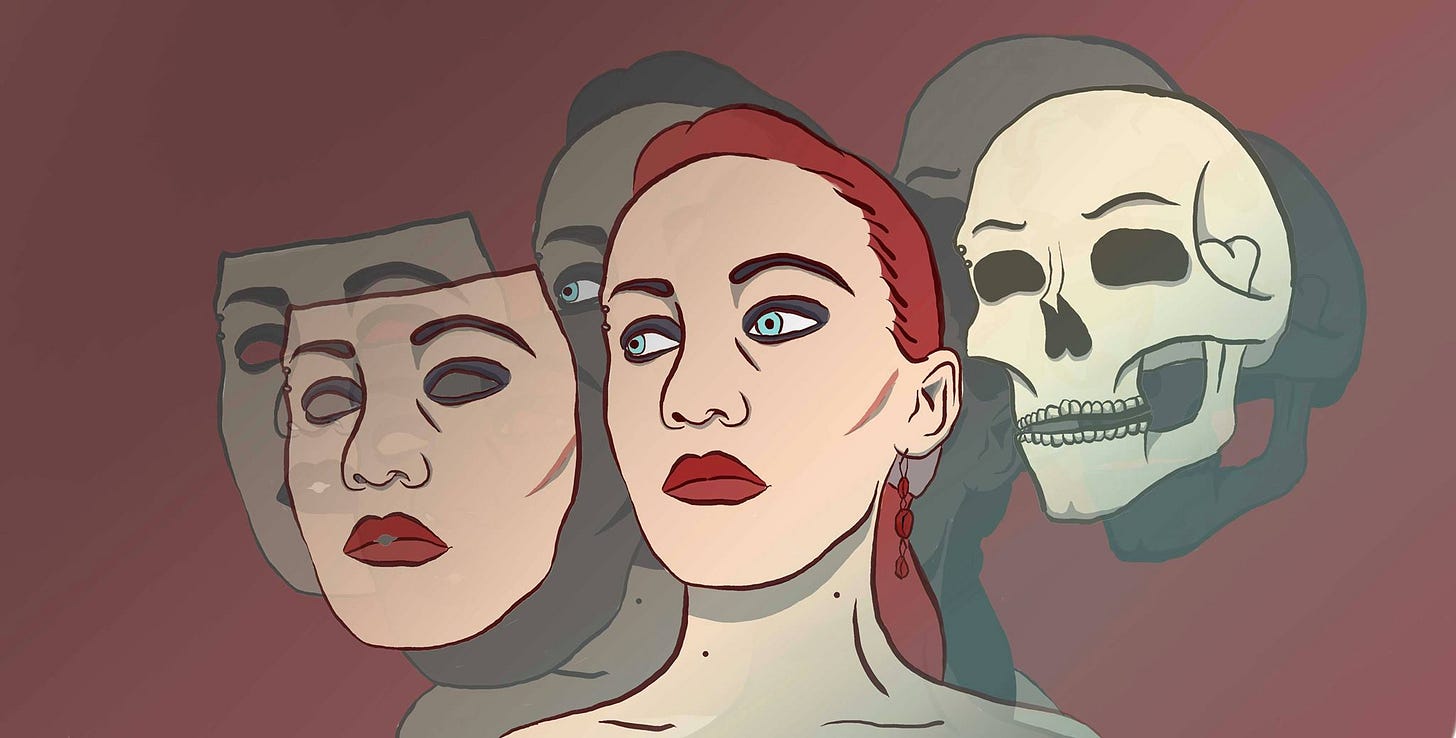 If you've read this blog, you might know that I have borderline personality disorder (BPD), a complicated diagnosis that develops at a young age and involves an unstable sense of self and pathologically strong emotions (including a lot of depression). I'll talk about BPD quite a bit in these updates. It's important to me to make this complex disorder comprehensible to as many people as possible. Comprehension fosters empathy, which fosters healing and combats stigma.
But wait, there's more! I recently received the fun new diagnosis of premenstrual dysphoric disorder, or PMDD, which is where my ovaries spontaneously combust every month my body and mind react badly to shifting levels of reproductive hormone in my bloodstream. Not a lot is understood about this problem, but I promise we'll explore it together in further issues.
---
Kitty Corner
Please meet the little monsters that live in my apartment!
This is Yara. She is not a pumpkin, but she has a pumpkin.
This is Pumpkin. She does not have a pumpkin, but she is a pumpkin.
---
Knitting
In addition to all this craziness, I run an Etsy store called Little Knitting Machine. Knitting is a wonderful hobby that keeps me sane, and creating stuff for other people makes it even better. As a token of gratitude for reading this far, please accept the discount code LILBLOG at checkout for $5 off anything in my store.
---
Shameless Self-Promotion
If you're inclined to support me further, then first of all, seriously, thank you. Second, I have a Patreon (pledging just a few bucks gets you the first chapters of my novel right now!), as well as a Ko-fi account where you can buy me a Yerba Mate. I also have a Discord server where you can hang out and talk about writing/music/knitting/whatever you so fancy with other readers!
Thanks again for reading, and remember to be empathetic today.